"This is why I use a large focal: a perspective that grabs us into the heart of the paintings. (...) It's a way of capturing the gaze of the viewers and immersing them in the world of the paintings."

-Rakajoo
Rakajoo (aka Baye-Dam Cissé) is a young French artist born in 1986 who just graduated from the Art & Image section of the Kourtrajmé school founded by Oscar nominated film director Ladj Ly and artist JR. His work was presented in the group exhibition Jusqu'ici tout va bien at the Palais de Tokyo at the end of 2020. The exhibition at Danysz gallery is his first solo show in a gallery.
The Three Castles includes twenty entirely new artworks, produced especially for this exhibition: works on canvas, most of them oil paintings, and on paper, as well as a sound or audiovisual installation extending the presentation.
Rakajoo is a portrait painter who loves to tell stories. With his paintings, he takes the floor to better concede it to others. The others are those he meets daily, relatives and people he doesn't even really know, as the police officer whose portrait he exhibited at the Palais de Tokyo, and whom he interviewed to realize sound installations complementing the setup of his paintings.
Sometimes referring to art history (Vermeer, Whistler, Freud are his references), his canvases are open windows on characters who carry individual stories but who are also part of a larger narrative, that of the Afro-Europeans.

ABOUT THE TITLE OF THE SHOW : THE THREE CASTLES
The title of the exhibition The Three Castles refers to three districts of Paris. Their names refer explicitly to the historical presence of castles: Châtelet, Château Rouge and Château d´Eau. These are very evocative and very strong toponyms, yet the daily reality there totally makes us forget the meaning and origins of these places.

The artist feels related to these three neighborhoods for personal reasons. He wishes to tell here in his own way, both the ancient and contemporary history of these places. Based on portraits and testimonies of residents, or regulars of these neighborhoods, he invites us to look at Paris differently through the prism of these three places.
STUDIO VISIT
"I've shed sweat, tears and blood, I took blows and hits. Now I give back brushstrokes"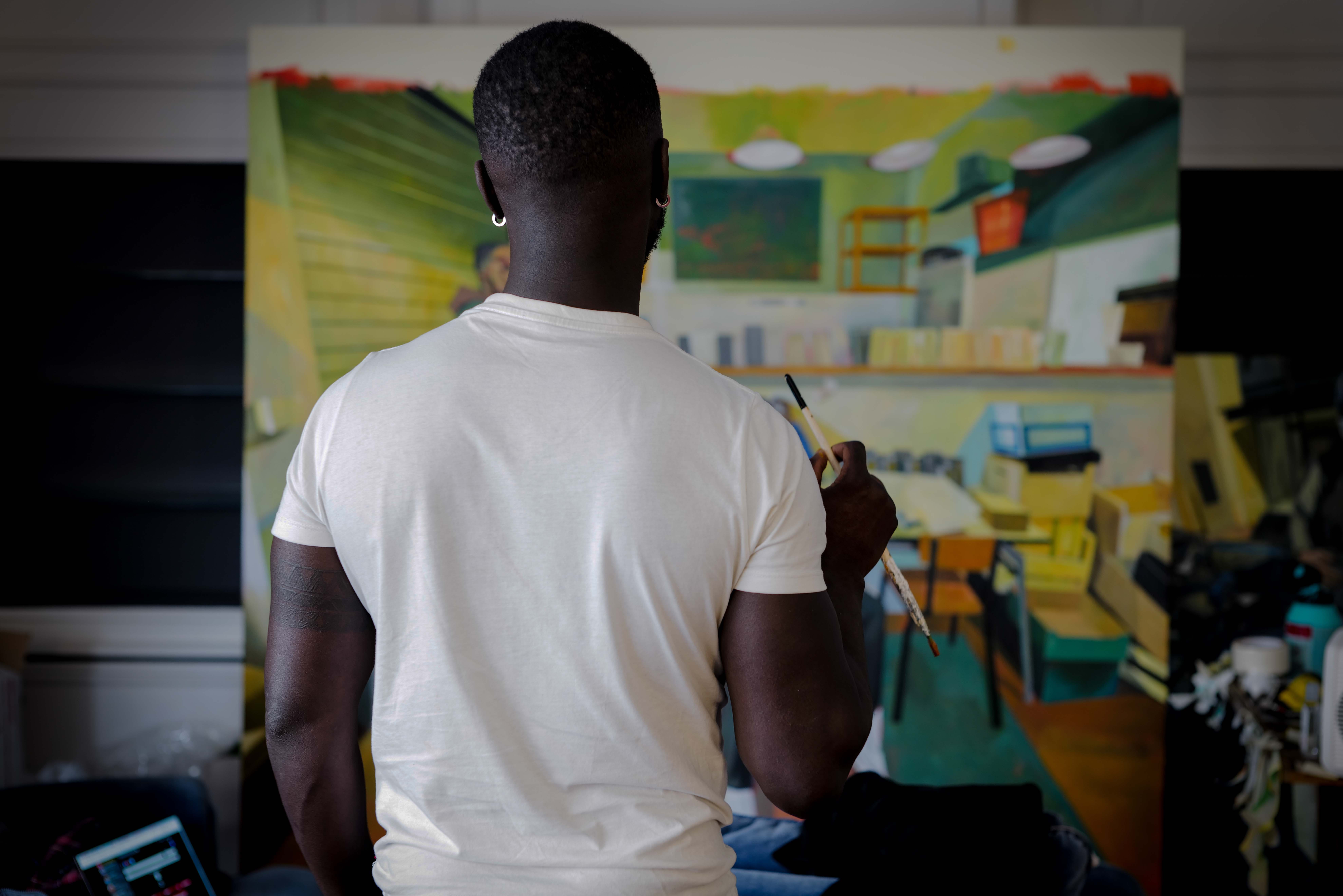 "I like the idea of dialogue in my work and that through the image that I will paint, you can feel the whole life of a person. The fact that it's not just an image for an image but that there is a real story behind it."

photos : Stéphane Bisseuil